Lil Nas X has shared a defiant message for his "haters" after reaching number one with his new single, Montero (Call Me By Your Name).
By Mark Savage
The track, which is a celebration of gay sexuality, has been criticised by conservatives in the US, who have called it "depraved" and "evil".
But the song has topped the charts in the US and UK, thanks in part to the spotlight his critics have shone on it.
Referring to the his chances at the prestigious Grammy Awards, he added: "I want your tears to fill my Grammy cup."
It is the star's second number one after Old Town Road, the country-rap crossover that spent a record 19 weeks at the top of the US chart in 2019.
Why is the song so controversial?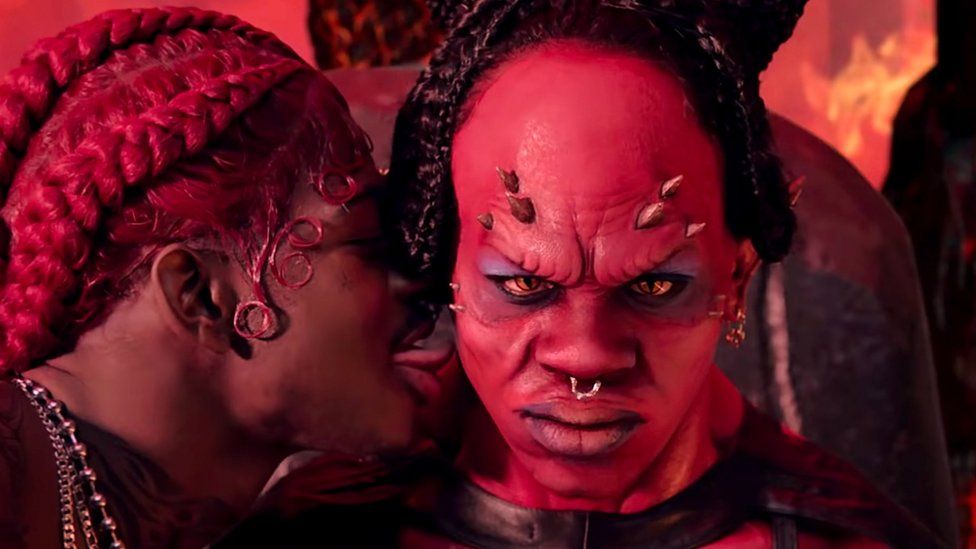 Montero has caused a stir with its high-concept video, which sees Lil Nas X descending to hell on a stripper pole and lapdancing for the devil – before killing him, stealing his horns and claiming them for himself.
The 21-year-old simultaneously released a limited edition range of sneakers, dubbed Satan Shoes, which featured a drop of human blood in the sole.
Both the video and the merchandise were condemned by some commentators.
Candace Owens accused the rapper of "keeping black America behind", while author and former US marine Matthew Betley described the video as a "sick and depraved and an attempt to destroy our society".
Nike also intervened, filing a trademark infringement claim against the art collective MSCHF, who used modified Nike Air Max 97s to create the Satan Shoes.
How did Lil Nas X react?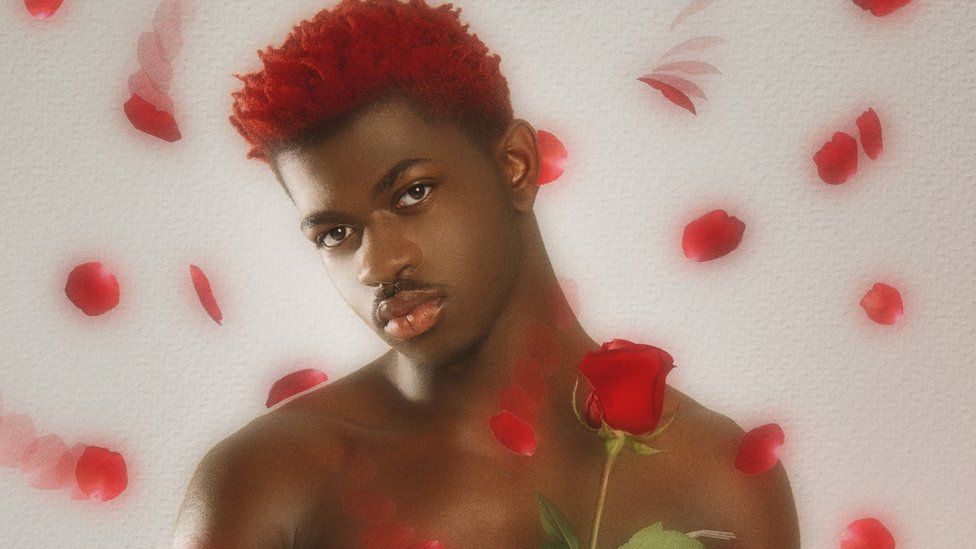 The critics played into Lil Nas X's hands, as he waited by his keyboard with an arsenal of barbed responses.
When the governor of South Dakota, Kristi Noem, criticised the Satan sneakers, Lil Nas X replied: "ur a whole governor and u on here tweeting about some damn shoes. do ur job!"
Then the rapper Joyner Lucas suggested the Montero video was unsuitable for children. Lil Nas X shot back: "I literally sing about adultery in old town road. u decided to let your child listen. blame yourself."
Fox News dedicated a segment to the rapper's video, so he reposted the clip in celebration. "I thought y'all didn't like political correctness. what happened?" he added.
Later, he posted a fake apology video on YouTube, which slam-cut into Montero's infamous lap-dancing scene.
And he issued a separate "censored" version of the music video, which consisted of a single still image of a public toilet, captioned "Montero but ur in the bathroom of hell while lil nas is giving satan a lap dance in the other room".
In stoking the fires of the trending topic pages, the rapper was drawing on his experience of running a Nicki Minaj "stan" account in his teens.
That approach is "one that can be inherently understood as someone adapting on the fly and deploying different strategies as needed", he added. "It's not a brute force approach, or a stubborn one. It's very canny."
Is he just baiting the critics?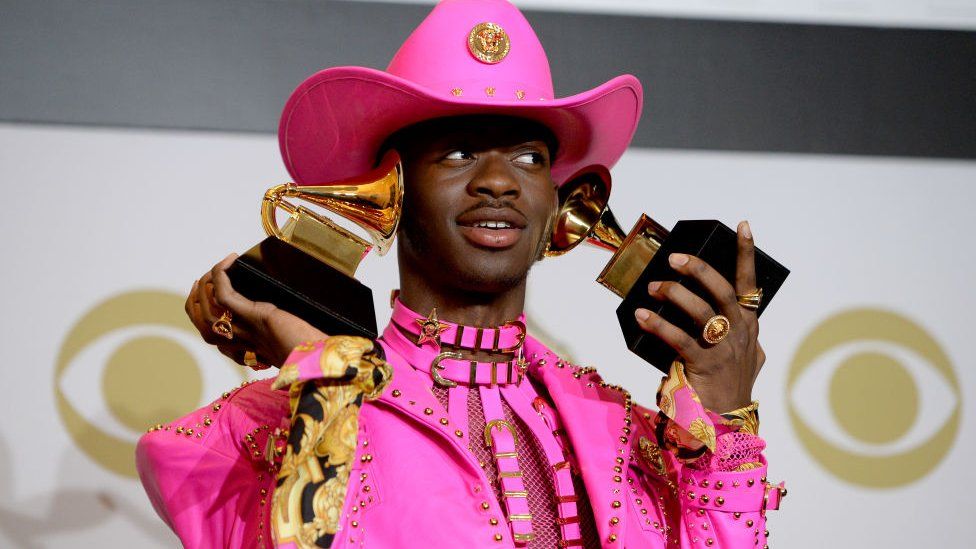 Absolutely. The furore surrounding Montero is at least partly deliberate.
Lil Nas X's video is teasing and camp – but it also knows the history of moral panic when musicians mix sexuality and religion, from the backwards messages supposedly hidden in songs by The Beatles and Judas Priest, to Madonna's Like A Prayer video.
But there's a serious side to this too.
The rapper says Montero was inspired by a man he met and fell for last summer. In a more reflective moment on Twitter, he wrote: "I spent my entire teenage years hating myself because of the [things] y'all preached would happen to me because i was gay. So i hope u are mad, stay mad, feel the same anger you teach us to have towards ourselves."
How well has the song done?
Figure captionWarning: Third party content may contain adverts
In the UK, Montero was streamed 6.8 million times last week – 2.5 million of which were plays of the video. It is the second single to debut at number one this year, after Olivia Rodrigo's Drivers Licence.
In the US, Montero drew 46.9 million streams and and sold 21,000 downloads. Lil Nas X was in a jubilant mood after finding out – recalling how he'd been branded a one hit wonder after the success of Old Town Road.
"Y'all told a 19 year old who had just escaped the lowest point of his life that he would never have a hit again," he tweeted.
"You told him to stop while he's ahead. he could've gave up. But 4 multi platinum songs and 2 #1's later, he's still here."